Flying the Blimp
It's New Year's Eve, and we're suspended 2,000 feet above Atlanta by an iconic bag of gas. It's kind of hard to believe I'm actually flying the Good year blimp.
For a guy with zero piloting experience, I have to ask: Is this legal?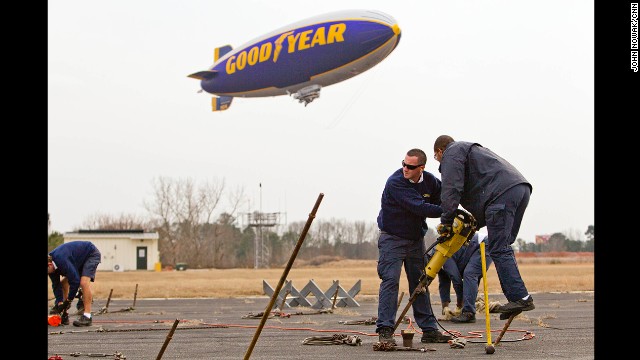 "Yep," Goodyear pilot Matt Lussier says, sitting on my right. "I'm a certified instructor, and you're my student."
Let me set the scene. High above the downtown Georgia Dome, where the Chick-fil-A Bowl is being played, Lussier, camera operator Tom O'Keefe and I are sitting in a tiny metal gondola with a passenger and cockpit area about 6 feet wide and 15 feet long. We're surrounded by windows, some of which are open.
Looking out those windows ... it's a loooooooong way down.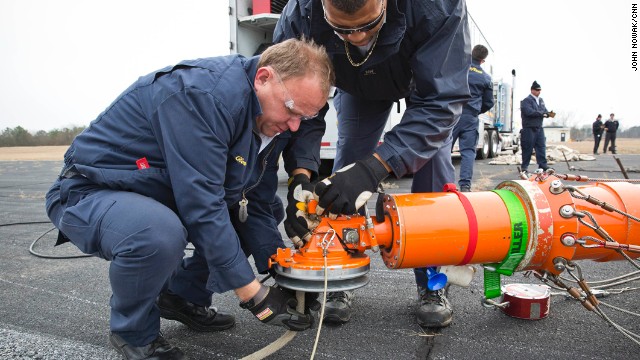 And winds out of the northwest at about 12 mph are making it a little chilly.
We have to wear headphones to communicate with each other above the roar of the blimp's twin propeller engines. I don't mind telling you, it's more than a little unnerving.
As Lussier put it more than once this night: "That's blimpin'!"
In front of me on the floor are two pedals.
"Put your feet on the pedals, and push the right pedal down about four inches," Lussier says. When I do this, the rubbery 192-foot-long aircraft slowly begins to turn right. "Now, push the right pedal all the way to the floor." As I do that, I'm surprised when the left pedal starts to push up against the sole of my left foot.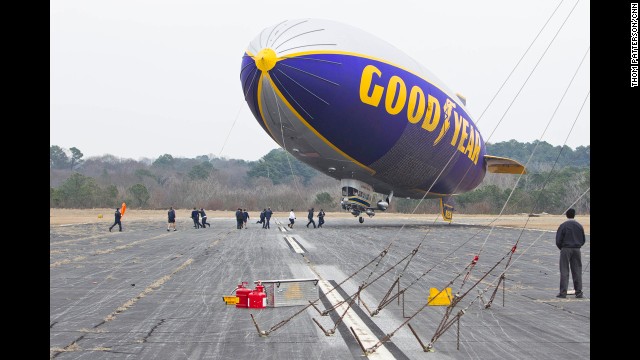 Now, the blimp's right turn begins to speed up.
Next, Lussier tells me to floor the other pedal -- the one under my left foot.
Slowly, the lumbering airship reverses itself, bringing us back to a straight course.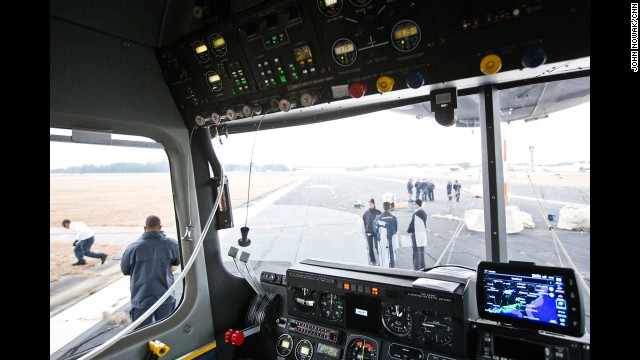 A wooden "elevator wheel" to the right of the pilot's seat is used to point the airship up or down. No fancy "fly-by-wire" electronics here. It blows my mind to think that the controls at my feet are directly connected by cables to the rudder and elevators on the blimp's tail.
My five minutes as a blimp pilot trainee hammered home this fact: These aircraft are the ships of the skies. They perform a lot like ships or even submarines, Lussier says. The wind is the equivalent of ocean currents.
The 32-year-old Lussier, who's been "blimpin' " for Goodyear since 2011, answered some of CNN readers' blimp questions. I'll tick a few off:
Cont ... via link below
http://edition.cnn.com/2014/01/02/travel/goodyear-blimp-main/ g