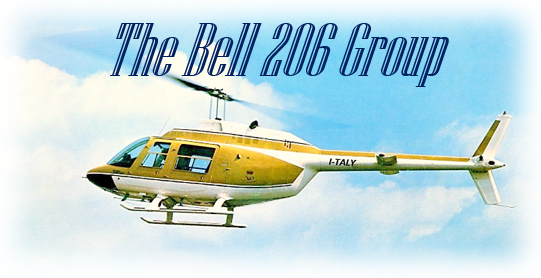 This thread is for notices and announcements relating to the Bell 206 Group on Facebook and which may be found here.
Dear Group Members
11th December 2022
Today the Bell 206 Group completes it's first year as an online specific-interest group, and I want to take this opportunity to thank the Group's admin team for their great support during this time. This includes existing Aviafora members
Filippo
(Phil Croucher),
Paolo
(Paul Kelsey) and
Davide
(David Clare) as well as
Giorgio
(George Arana) and
Giuliano
(Julian Mills). Thank you for your assistance which is gratefully appreciated.
It was never my intention to start a 'Bell 206' Facebook group, but that is what happened, and one day I will share the backstory as to what influenced this decision.
On behalf of the admin team, we wish each of our members a very warm welcome to the Group during this our first year. Our aim is to source interesting and informative content for our members, and we encourage those who are able, to consider supporting the Group by becoming a content contributor through posting photos and videos as well as news and information relating to the Bell 206 and/or Bell 407.
As we move into our second year, I am forming some ideas in terms of the direction of the Group, and will be discussing this with our admin team in the months ahead and whatever decisions are reached, will be shared with the Group.
Christmas 2022
21st December marks the commencement of the 'Snow Ranger' season on the Bell 206 Group. What does this mean? It means that from 21st December through to 8th January I shall be posting only 'Snow Rangers'. What are Snow Rangers? Snow Rangers are any photo or video featuring a Bell 206 or 407 and which also includes some amount of snow!

Unlike my standard format when it comes to photo posting, many of the Snow Ranger posts will possess only limited information; additionally, some days there may be just one or two posts. The reason for this wall-to-wall posting of Snow Rangers as well as fewer overall posts during Christmas and New Year is to enable me to have something of a break.
I am glad to say that I will be assisted during this time by
Paolo
(Paul Kelsey) and
Rolando
(Roland Büsser) who will be adding contributions from their own collection of Snow Rangers.
2023
As mentioned above, and as has been previously shared on the Group, we are looking for volunteers to join our team as content contributors. If you are able to source or provide photos and/or videos of Bell 206's/407's, then please send me a PM via Facebook.
With best wishes

Savoia