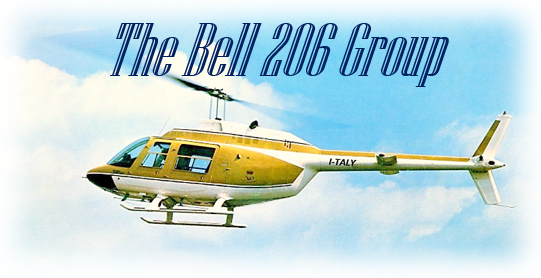 This thread is for notices and announcements relating to the Bell 206 Group on Facebook and which may be found here.
11th December 2022
An Introduction to the Bell 206 Group
The Bell 206 Group was formed on 11th December 2021 as a special interest group, our special interest being the Bell 206 & 407. The group was started by Aviafora member 'Savoia' who wanted to share information relating to the Bell 206 while also having the freedom to express some of his personal non-aviation perspectives from time-to-time.
The Group is supported by a number of volunteers and is managed by our Admin Team who are as follows:
Phil 'Filippo' Croucher
: Co-founder of Aviafora, Head of Training at Caledonian Advanced Pilot Training and author of the acclaimed Bell 206 Book.
Paul 'Paolo' Kelsey
: Son of the late great Welsh goalkeeper John 'Jack' Kelsey; Paolo is a founding member of Aviafora and a keen lifelong aviation enthusiast, photographer and photo-collector. Paolo also maintains numerous aircraft registration and history databases.
Davide 'Davide' Clare
: A highly experienced professional helicopter pilot with substantial offshore experience having flown with both Bristow and Bond Helicopters. Davide also served as Chief Pilot of CHC Scotia Helicopters.
George 'Giorgio' Arana
: Co-founder of Eagle Rotorcraft Simulations a keen lifelong aviation enthusiast, Giorgio maintains several aviation-themed Facebook groups.
Julian 'Giuliano' Mills
: Former professional helicopter pilot and helicopter operator with an interest in numerous aircraft including the Bell 206.
Martin 'Martino' Daniel
: Former professional fixed-wing pilot and aviation/rotary-wing enthusiast.
You may contact myself or any member of our Admin Team by going to the top of the Group's Facebook page and clicking on the 'Members' tab where you will find all of our Administrators and Moderators listed.
We hope that you enjoy your time as a member of the Bell 206 Group.
Savoia
—
aka 'Avia Fora' on FB