Lion Air 737 in hard landing at Surabaya
Indonesia's Lion Air has confirmed that one of its Boeing 737-900ERs was involved in a hard landing incident at Surabaya's Juanda International airport on the morning of 1 February.
The aircraft, registered as PK-LFH, was operating a flight from Balikpapan to Surabaya, and experienced a hard landing at around 10:20 local time, a Lion Air tells Flightglobal.
The hard landing caused some of the aircraft's tyres to burst, but there was no damage to the landing gear. Inspections of the airframe are continuing, and the aircraft reamins on the ground in Surabaya.
Three passengers received minor injuries during the incident and were treated by a doctor, the spokesman adds.
Flightglobal's Ascend Online Fleets database shows that the 737 was delivered in December 2007, and is owned by HSH Global Aircraft Fund 1, and is managed by Amentum Capital.
Ascend also shows that Lion Air's last major aircraft loss occurred on 13 April 2013 when one of its 737-800s undershot the runway at Denpasar's Ngurah Rai International airport.
http://www.flightglobal.com/news/art...rabaya-395461/

Some may recall Lion Air's 'Cow Hitting' incident last August (below):
Passenger jet hits cow when landing
The Lion Air jet carrying 110 passengers and seven crew crashed into one of three cows that were wandering on the runway in Gorontalo, on Sulawesi Island.
No injuries were reported, but the incident forced the cancellation of flights, stranding hundreds of passengers traveling for the Eid holiday.
Transportation Ministry spokesman Bambang Ervan said three cows were on the runway, and the plane hit at least one of them and careened off the runway before coming to a stop.
The plane suffered minor damage and skidded into the field next to the runway.
According to local media it had left Jakarta and also had a stopover in Makassar, on Sulawesi.
Indonesia has Asia's worst aviation safety records.
In April, a Lion Air plane belly-flopped into the ocean just short of the runway off the resort island of Bali. All 108 people aboard survived.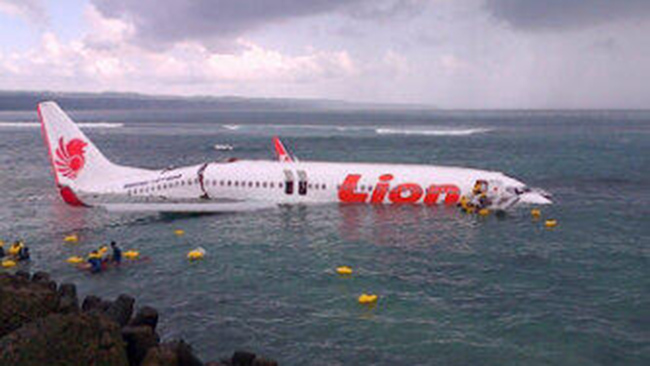 The company has also put in orders with Airbus and Bowing. It has an aim to own 1000 planes within 10 years.
The incident is under investigation.
http://www.dailymail.co.uk/news/article-2386727/Lion-Air-jet-crashes-cow-skids-runway-Indonesia.html